This is a Quick Start Guide for using the Viper Demo Site, while you explore Viper as a possible solution for your company. It will help you get started adding content to the Content Library and building sample proposals.
Demo Site Content and Data: Please note that the Demo Site is a blank slate with NO content, vendors, clients, etc. If you choose to sign up for Viper, your site will be loaded with your reusable content and pricing, custom program templates, custom section styles, and your existing clients, vendors and hotels. This guide is intended solely to help you get acquainted with the Demo Site and begin using some of Viper's basic features. The Demo Site doesn't fully capture the streamlined feel of using your own customized Viper site with your data and content. Many aspects of the system, like Reporting, Provider Management, and Program Templates rely on the system being populated with your providers and data.
Adding Content and Pricing: Before jumping straight into creating a proposal, standard proposal content should be built in the Content Library. Content in the Content Library can be "dragged and dropped" into all future proposals. (As needed, you can still create custom content within any proposal that may be specific to the program or client.) The Content Library is organized using folders and subfolders. Within each folder you can add articles, products, and packages. Articles are used to enter descriptive information and do not include pricing, such as "About our Team" or "Destination Information." Products and Packages are used to manage pricing; products represent a single line item in the Costing, while a Package is a group of multiple products that can be used to create comprehensive pricing for an "experience," such as a museum tour with lunch options and included transportation. Keep in mind that products and packages can still have descriptions in addition to pricing.
Start by clicking on the Content Library tab.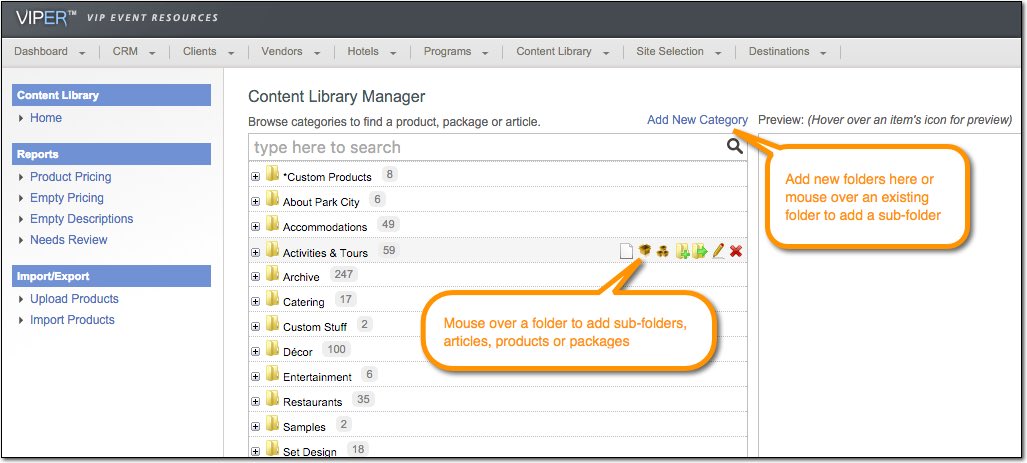 Articles and pricing that you add to the Content Library can then be dropped into proposals and costings.
Click [Add New Category] link to create a new folder in the Content Library.
Create an article, product or package by mousing over the new folder and clicking on the correct icon (paper icon = article // single box icon = product // stack of boxes icon = package).
If creating an article, use the content toolbar to add text, create slideshows and image galleries, embed video, and more. Learn more about creating article content here.
If creating a package or product, you can add pricing AND add a client facing description if desired. Learn more about adding pricing here.
Building a proposal: To begin building a proposal, you must first create a program for a specific company.
In the Dashboard tab, start by clicking the [Add New Program] button. Begin typing the name of the client you are building the proposal for and choose from the list, or create a new company and contact if needed.
Add new programs using the button on the Dashboard.
In the first step of the New Program Wizard, choose a program template if available, or skip this step to start with a blank proposal.
On the second step of the New Program Wizard, enter basic program information and click [Submit] to create your program.
After creating the program, you'll be taken to the Details tab for the program. Here you can change program details, dates, contacts and more. Use the tabs along the top of the screen to manage other aspects of the program.
Event Schedule: Use the Event Schedule tab to add events for your proposal. All Events have a specific start and end time.
The Event Schedule tab is the best place to set the program's schedule of events.
After creating the schedule of events for the program, you can move to the Proposal tab. Click on one of the Events you created or add a new Section (not date specific) and click on it to add content to the proposal.
In the Proposal tab, open an event or section to add proposal content.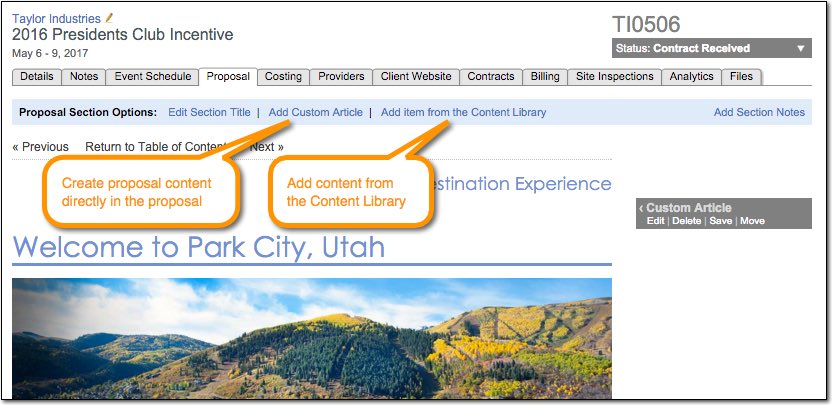 In a proposal section or event, click [Add item from Content Library] if you want to add existing content, or click [Add Custom Article] to create custom content. (If you have not yet created any content in the Content Library, you will need to create "custom articles" directly in the proposal instead of adding content from the Content Library.) Repeat as necessary to add additional content to the proposal.
Move to the Costing tab to view any pricing that may have been added along with your proposal content. You can change any quantities, prices, costs, etc. You can also move/copy line items, manage vendors, add notes, and more.
Feel free to explore the other program management tools by clicking on the tabs across the top. Learn more about building and managing programs in this article.
Delivering Proposal: When the proposal is ready for delivery, go to the Client Website tab. 
Add a custom message to the client in the box on the top right.
Click [Publish] next to the proposal and costing when each is ready.
Click the [Preview this Proposal] link to see the proposal as your client will see it.
Note: On the Demo Site, we do not recommend actually delivering the proposal to a real client email address.
Additional Support Materials: Our Quick Start Guides provide more in depth information on other functionality and managing programs. You can also review articles in our Knowledge Base and view video tutorials on our YouTube channel.