A product in your content library is able to have multiple vendors and costings applied to it. This is helpful as an example if you need to source multiple vendors such as motorcoaches as one company may not have enough for your requirements. VIPER will give you the option to select a default vendor, which is the vendor & pricing that will initially populate in your proposal. Then, once in your proposal and/or operations, you can select different quantities of that product from different vendors and choose to either pass the price increase/decrease onto your client or just use multiple vendors and add/subtract from your profits to do so.
Here is how VIPER assigns a default vendor. The arrow on the side allows you to move your vendor priority up and down.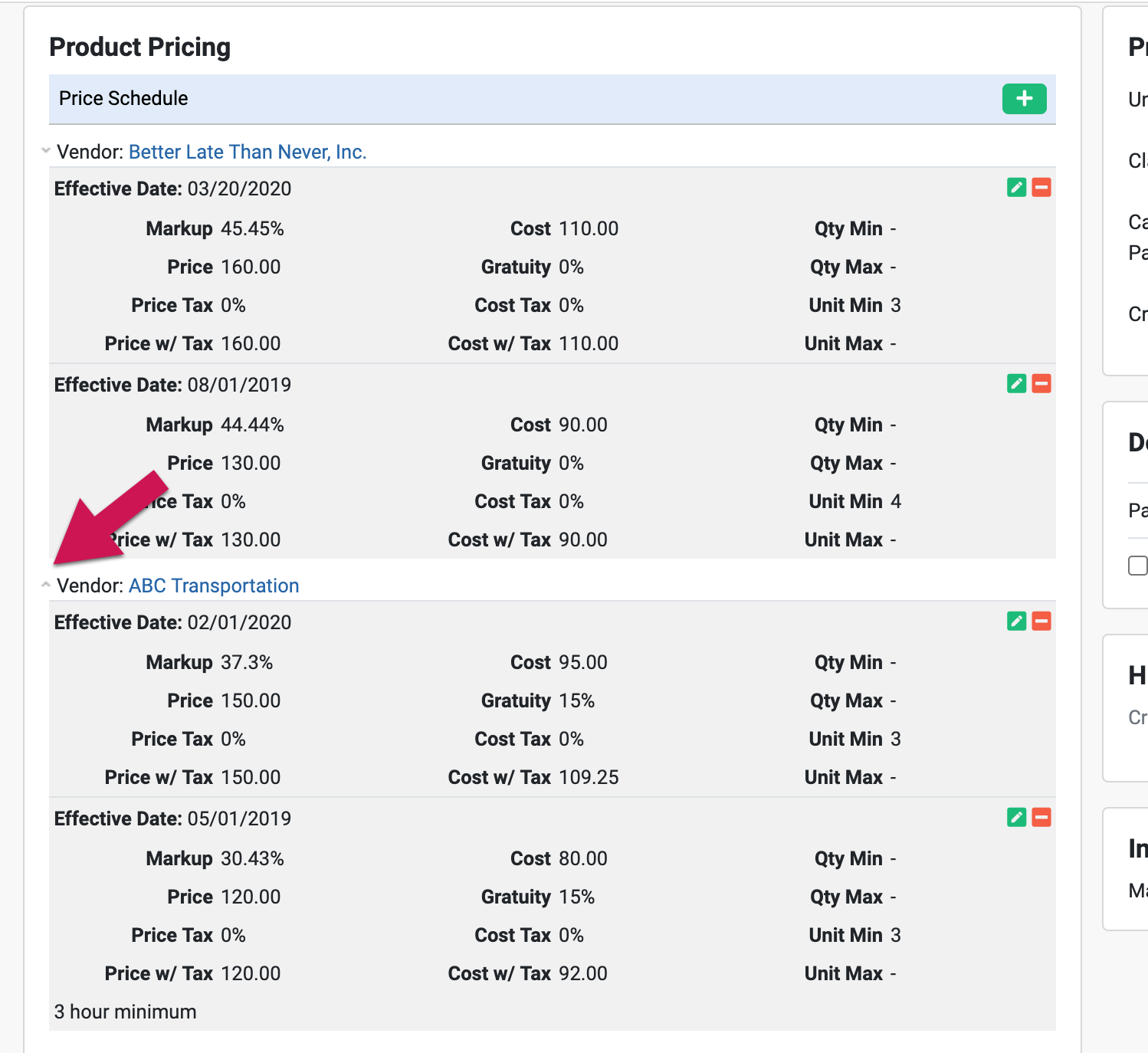 Once this is in a proposal costing, this is how VIPER initially assigns these products in a proposal.
As you can see, all 8 minicoaches are assigned to vendor 'better late than never' to begin. You can change that up by selecting on the providers option from the horizontal lines next to the product. See below:
That will take you to the providers option for that product. From here, you will now see this window appear:
Next, I am going to only get 4 minicoaches from my 'better late' vendor and the other 4 minicoaches from ABC transportation as per this screenshot: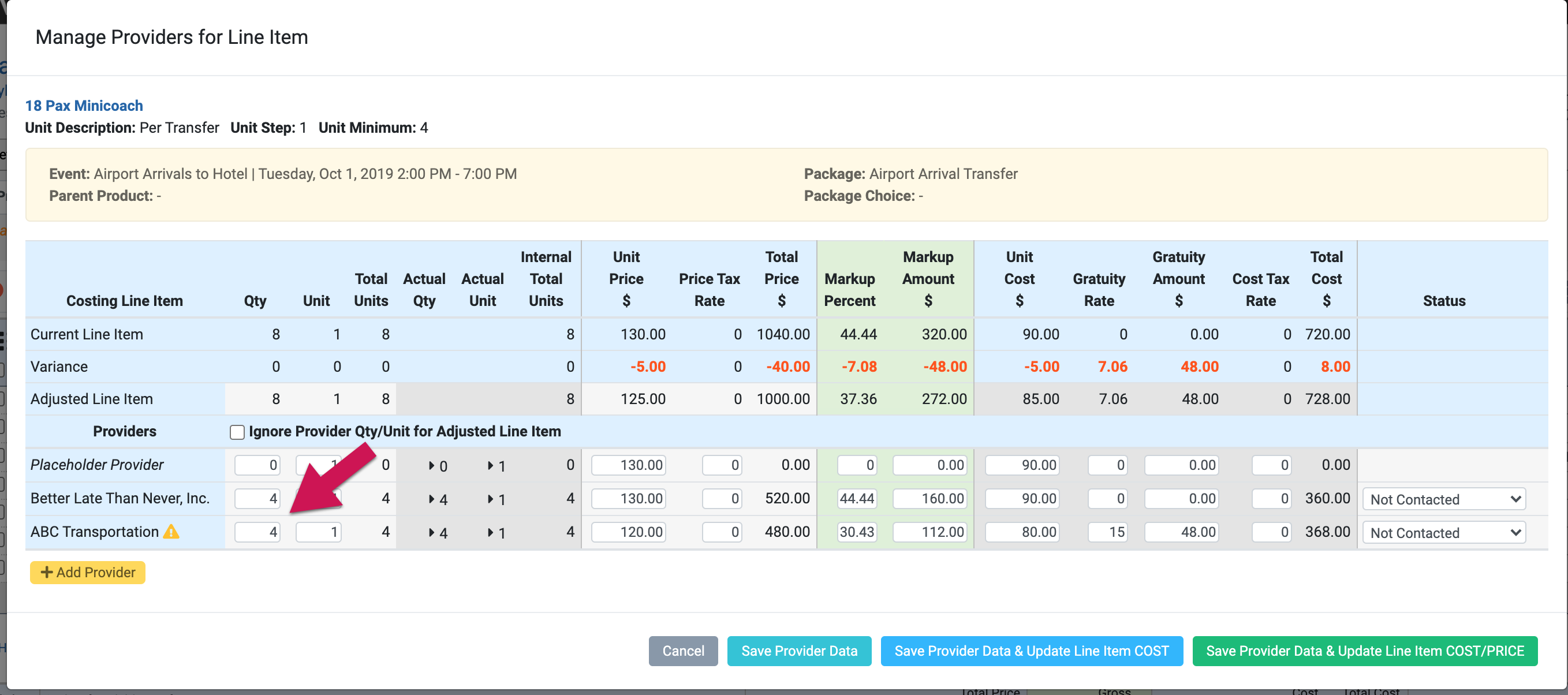 Once 4 from each vendor are selected, it will show you that there is a price variance to deal with as the ABC vendor charges less than the better late vendor. The selected area shows you the total price variance:
Next, if you select as per the arrow the 'save provider data & upload line item cost' - that will keep your price the same for your client and only change the consolidated costs. In simple terms, this means your margin/markup will go up and you paying $10 less per minicoach from your secondary supplier. This is the most typical way to save these price savings.
Or, option 2 is to 'save provider data and update line item cost/price' option. This will then pass along the lower total price to your client for the combined vendors. This option is often used if you have to coordinate with your client to source more or different product from a vendor with an agreed upon higher cost + price for the item. An example would be that you needed an additional minicoach over and above the contract and your new vendor charged a much higher cost, which therefore requires you to charge a much higher price back to the your client. For that example, choose the green bar as per the screenshot below: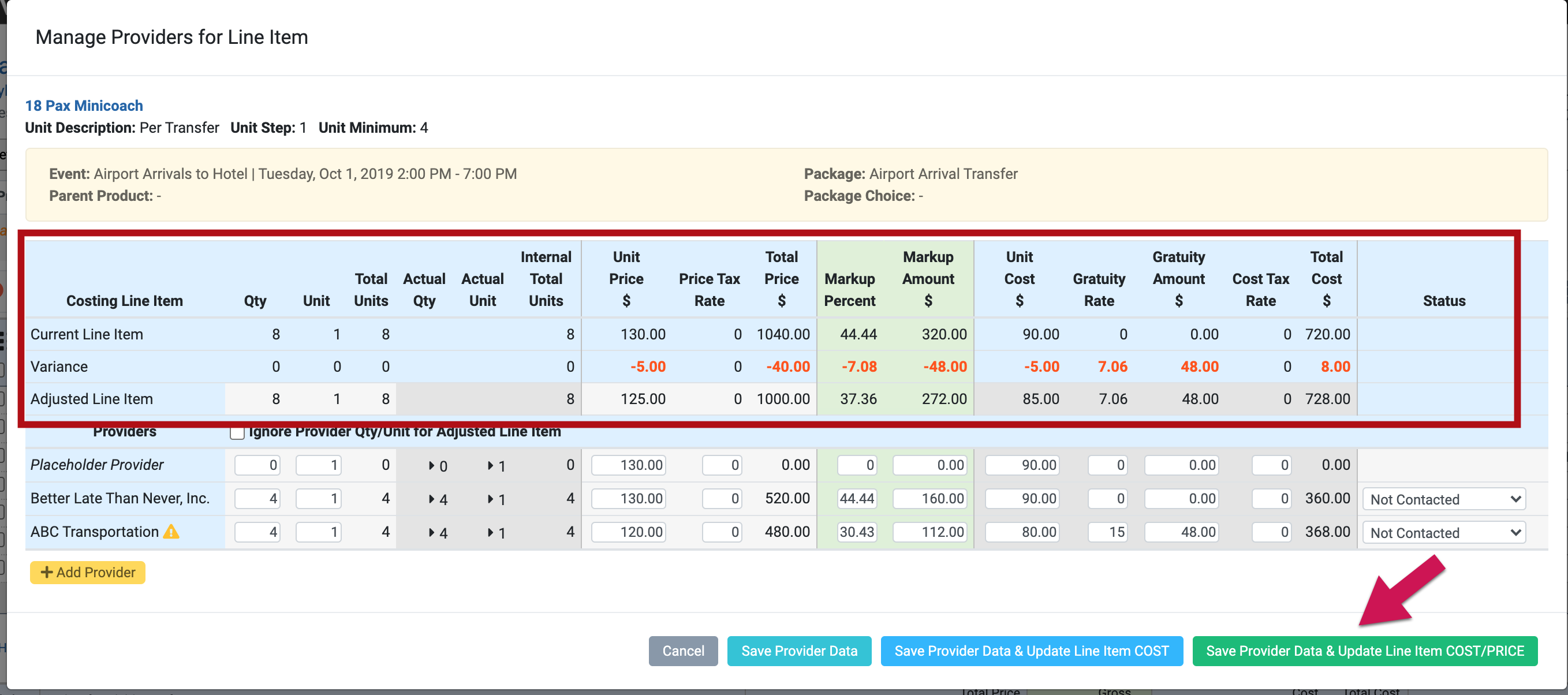 Hopefully that makes sense as it can be a complicated piece of operations in VIPER, but it's very helpful for reconciling program costs.