Let's say you want to build an event for a proposal that wants to tell a story - it's an event, let's say that has a venue, some decor and a band. It needs to be specific for one client, so it's not something you have readily at hand in your content library. Here is the 'on the fly', need to get it done way to manage that.
Steps are outlined below with screenshot, video tutorial link is here - https://youtu.be/FR0W0EBTJsA.
1. First and most important, build in the content library and NOT the proposal. It is much easier to combine and move around content in the content library. Plus, you will have it there in the future. Not used to working in the content library, just build your own folder so you can find things later.

2. Next, pick any package currently in the content library that has the most costing products of the event you want to create. Not the pictures, just the costing line items. These take the most time when you are in a proposal to add and if it is something custom, you will need the line items. In this content library, we took the time to build a package of products called 'decor template' that has a list of items with and their average costs. This is typically the package that I copy and then I update these costs within my proposal based on what I want to add and quotes I've received. If you don't have this, take a few minutes and build some blank line items into a package for now as you will reuse these packages over and over.
3. Select copy, rename new copied package and file into a folder that makes sense for you.
>Select copy from your costing package
>prompts new window in which you select where your new content will be filed in the content library and what your new content will be named
3. Next, add any additional costed items to your custom package that you want to use in your event. NOTE: you can skip this step and add once it's in your proposal if you wish, but if you have the time, this is the correct way to do it to use these packages over again.
>Click plus to open the content library
> Add products from the content library. Easiest to add everything at one time. Note: you can re-order within your proposal. DO NOT worry yet about photos and text, we'll get there.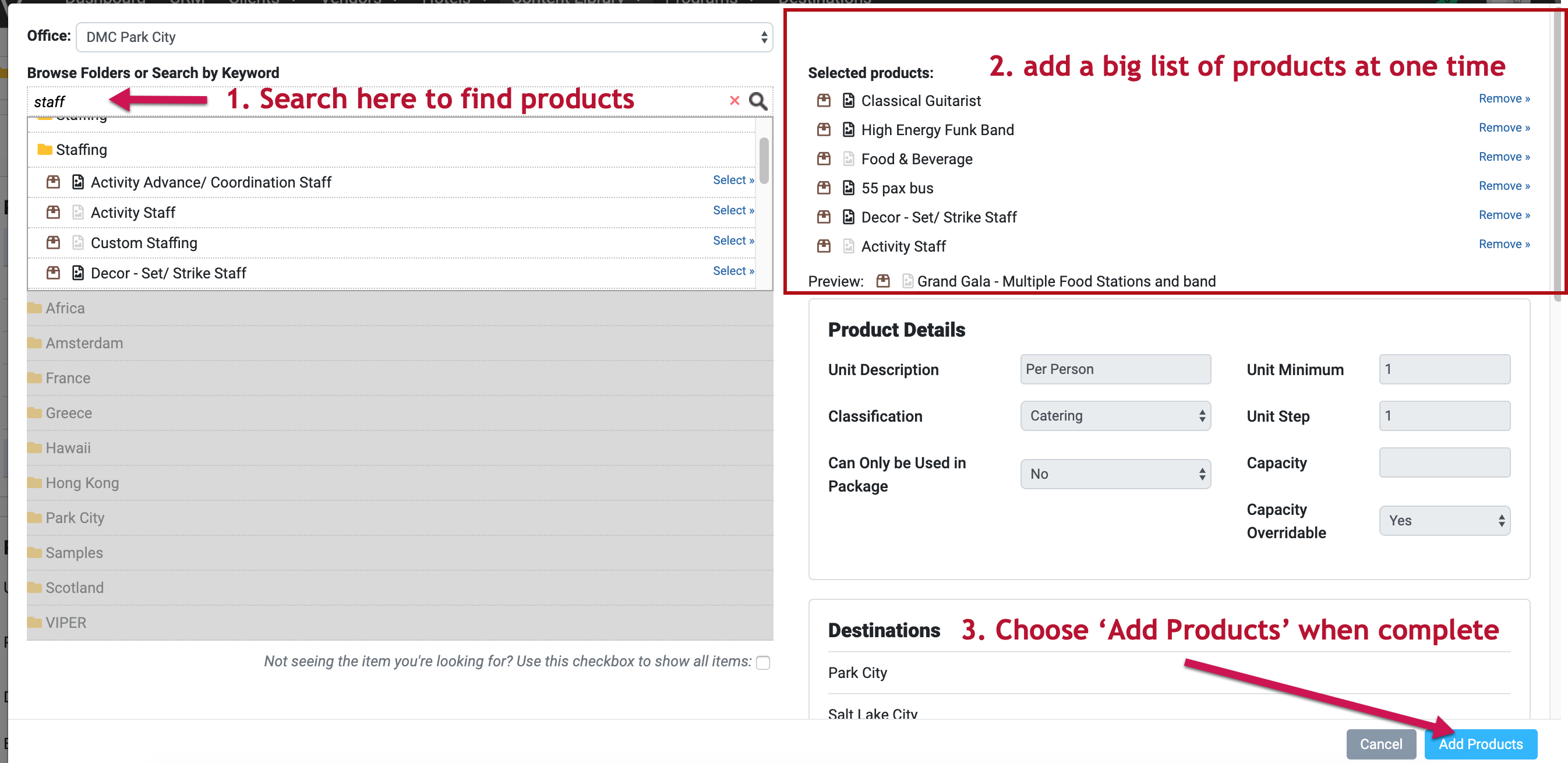 4. Now you probably have a laundry list of content (or none at all) on the proposal side of your event, depending on what was in your content library. Click on proposal description to begin.
5. In this example, the proposal description contains a template that we build to use for these custom events. Nice to have, not need to have, but it does help your content have a consistent look at feel. If you have nothing, don't worry, it's only just a starting point.
6. Next, go shopping within your content library to find any or all of the content you need for your event. This is the BEST timesaver you will find.
> select the add article icon from the proposal description tab
> from the content library, select all of your content articles for your event. You may not use everything, but grab whatever you have already in there to save time.
>grab them all at once if you can
7. Now, go into the proposal and rearrange content, delete content, and replace content with other text and images to jumble of content to order.
>deletes content
>edits content
>rearrange content in your event to tell your story chronologically

8. Replacing Images - select edit on an existing image, browse for file and replace. NOTE: if you are using google images, filter by medium or large to get big enough images to fill the screen size.
9. Adding video - see the embed article here - https://viper.zendesk.com/hc/en-us/articles/207650646-How-do-I-embed-a-video-from-YouTube-
10. If you need to add additional new content over and above editing existing content, choose from these options - add image, add text, add photo right/text left, add photo left/text right, add slideshow, add gallery (preferred choice for multiple photos), add video, add soundlist (MP3's), or add attachments (such as a menu). The list appears here
11. Once your event looks as you want, now drop it into your proposal.
12. Adjust or change your costs as necessary.
13. Hint: keep some placeholder line items in your content library to add extra lines as needed. Also, keep a placeholder package in your content library and use these to separate content for larger events. Here is how they look in the content library:

> Here is how they look when you add them to your proposal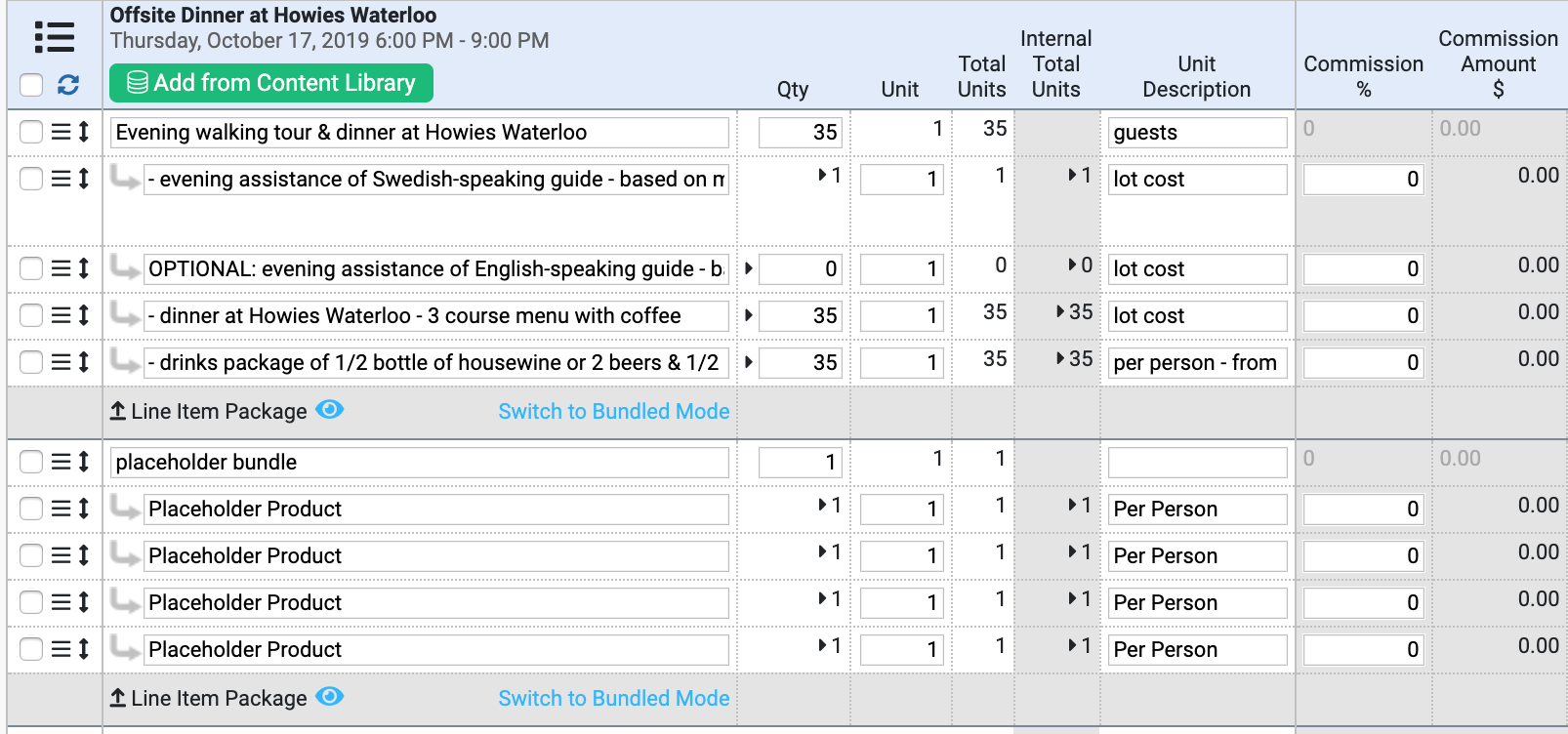 14. Now, drag these around, copy them, change their prices and descriptions and generally build your event costing 'on the fly' from quotes or other events. Here is an example of how it could look when you're done. The placeholder packages allow you to group different subjects into different section headings.