The VIPER dashboard gives you live, up to the minute, real-time reporting. While this is a fantastic feature, it does not give you the ability to time-stamp a certain month/day/year to be able to compare over a previous period. As you likely want to keep track of your sales pipeline revenue throughout the year, you will need to create your own reports offline from VIPER. There is a TON of data that is easy to access from the dashboard (all programs) tab. Here are some basic metrics you can start with:
1. From the Program tab - select all programs
2. Use the filters:
Current year - select Jan 1, xxxx to Dec 31, xxxx
Current Program Status - select everything except dead proposals to see what's current.
Probability - for sold programs, select 100%
3. Running the search query will narrow the results from your filters and provide a list of the programs as well as a grand 'active' total of revenue at the bottom of the dashboard. Active costing is the current total of the operations costing that are in the 'active' proposal version. Note: in this example all of the programs are in operations mode. If you have a combination of programs in sales and operations mode, the active total will be a combination of both sales active costing and operations active costing combined based on whichever is the most current status. This is necessary to know as you will not always be reporting on programs that are in operations mode.
4. Now, take these numbers and move them to an external reporting spreadsheet. There is a template excel document attached that you can start with. Use this and make separate tabs for each year so you can review what % of target you are at every year based on month.
5. Next, repeat the filter options to see what business hasn't closed yet, but might. We recommend using metrics such as 70-90%, then 50-70% and so on to track how numbers are moving up the pipeline. Hint: come up with standard percentage metrics with your team and follow them - example: 30% destination bid, 50% destination sold, competing dmc, 70% site inspection booked, 80% verbal agreement and so on. Each time, the active costing will update to reflect the current filters.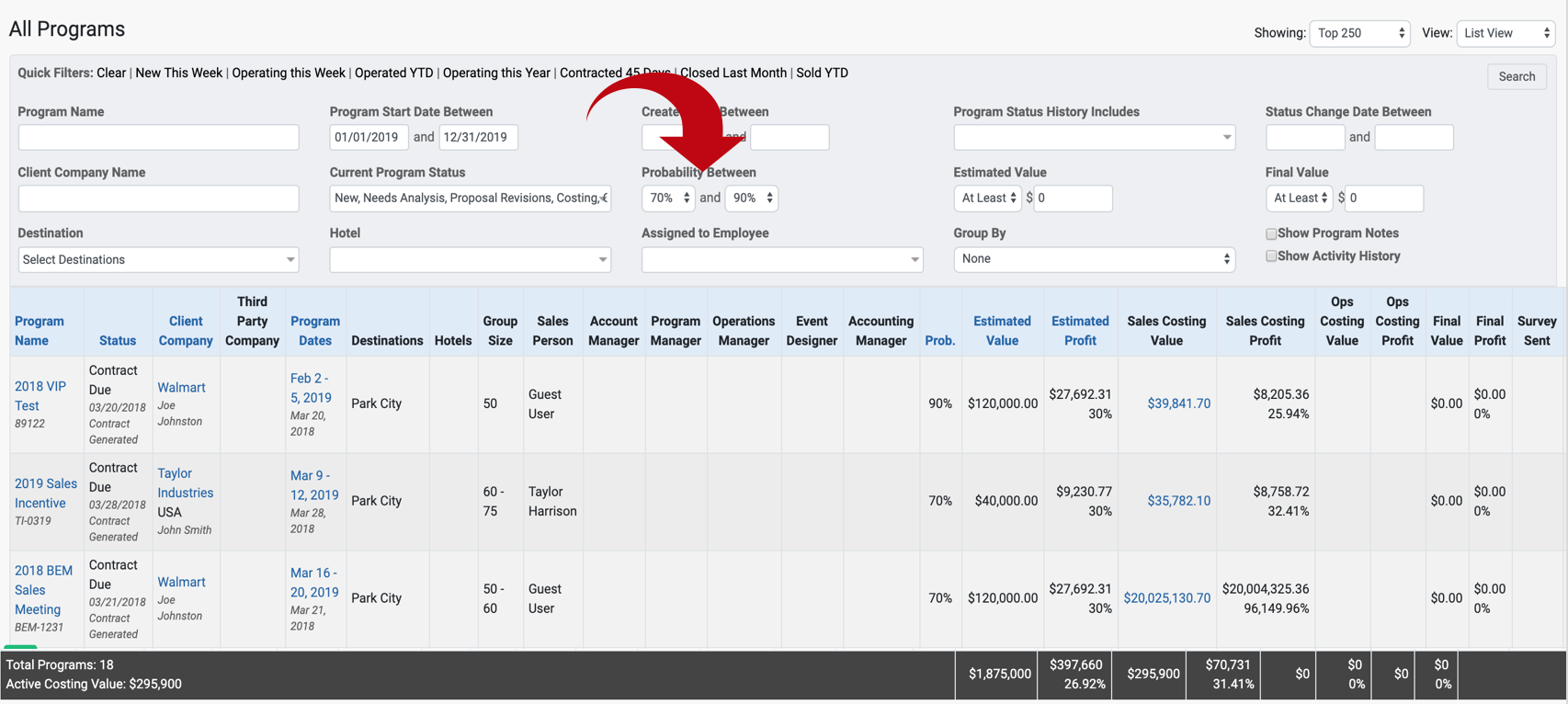 6. Also, run it by other filters - destination, sales person, assigned to, etc. Whatever you find helpful to track your revenue throughout the year, who is driving it and the margins you are sitting at.
7. Last, if you want more info on the data you have filters, it is always an option to download the data to a csv file. From there, save as excel and either filter or pivot the data that you want to use. Very handy to sales efforts as there are a lot of fields that are not shown in the dashboard, but will show in excel. Examples are - lead source, email address, geographical location of program or lead, type of industry and many more.
Remember, measure what you treasure. Happy Reporting!