Steps to Prepare your Offerings for Upload to Maritz
Before you learn how to upload your offerings (proposal descriptions and pricing) to the Maritz Viper Portal, be sure to review the steps for preparing your offerings for upload to the Maritz Content Library (Tariff) here.   
Content Library Overview
The Content Library (also referred to as the "Tariff") in the Maritz Viper Portal is designed to accept proposal content (descriptions and pricing) in a variety of formats. The purpose of the Content Library is to 1) allow Maritz to look up your offerings and pricing quickly without having to request it from you every time there is a Maritz client considering one or more of your destinations and 2) allow you to manage your Maritz proposal content and pricing efficiently at your convenience. At this time, the Viper Content Library will be primarily a reference tool used by Maritz for preliminary proposals and "research" in the early stages of the sales process. Maritz will continue to reach out to you for program-specific proposals and pricing.
In the Content Library, you can provide content by uploading your existing documents in editable file formats (such as Microsoft Word or PowerPoint) for Maritz staff to download and use as needed. This is done by adding "File Attachments" to Articles in the Content Library.
How do I use the Content Library?
The Content Library is where you will store all your offerings that Maritz will be able to access for use in preliminary proposals. In the Content Library you can add, edit and update these offerings as necessary. In Viper, Articles are used to organize content within the Content Library, like the descriptions and pricing for all your activities or restaurants. Each folder in the Content Library should have a single Article for each Maritz-approved destination you serve, to which you will upload a Word/PowerPoint document containing your descriptions and pricing. Maritz will search for specific Articles in the Content Library based on destination, category (activity, restaurant, venue, etc.) and keywords when creating preliminary proposals to sell your destination services.
Content Library Structure
To access the Content Library in Viper, click the Tariff tab in the top menu.
In the Content Library you will see a hierarchy of folders. In addition to the "Trash" folder, you will see a folder for each type of content Maritz would like added. For instance, you'll quickly see that they would like a minimum of 10 activities added for each destination and 3-5 decor packages for each destination. As you add Articles, click the [+] icon to expand a folder and browse for specific Articles or use the keyword search at the top of the folder list.
Create articles to add content to the Content Library. Navigate folders and find existing articles by clicking the [+] icon.
Adding Proposal Content and Pricing
Proposal content is added to the Content Library using Articles. To create a new Article, simply hover your mouse over a folder and click the document icon. Be sure to enter a descriptive name, such as "All Activities" or "All Restaurants - Dallas" and select applicable destinations when creating an Article.
Once you have created the Article, you can upload files from your computer in Word or PowerPoint format that contain your descriptions AND pricing.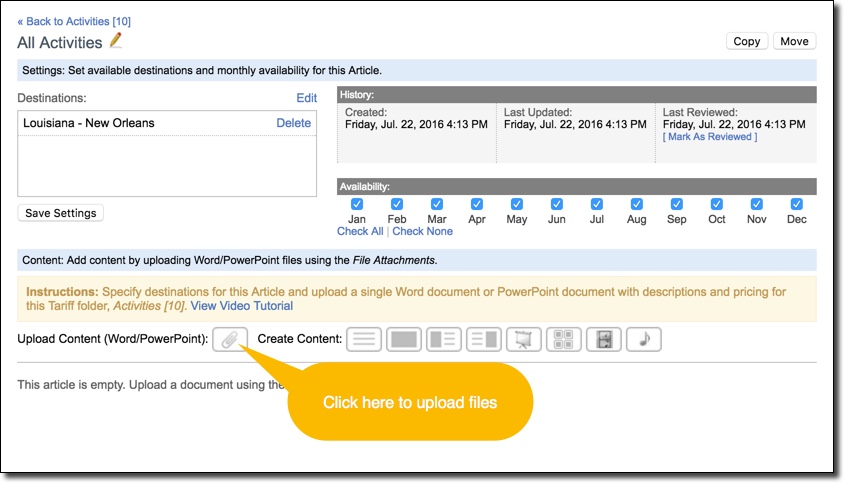 Maritz prefers that you create 1 Article for each category (i.e. activities, large restaurants, medium restaurants, small restaurants, team building, etc.) outlined in the Content Library folder structure and then use the File Attachments Content Block to upload a single Word document or PowerPoint document with content and pricing. For instance, you can create a single Article in the Activities folder and then upload a single Word document with descriptions and pricing for 10 or more of your activities. If you serve multiple Maritz-approved destinations, you should have an Article for each destination in each folder.